When you buy a franchise, you want to get going!
(In just four months you'll be open and driving revenue.)
Functional scalability
Ace Handyman Services' modest initial investment frees capital for business development in your local market. By leveraging thoroughly vetted proprietary support systems, our routines free owners to focus on building the business. This is about working "ON" your business, not "IN" your business. The system is tailored to serve multiple revenue streams (e.g. commercial work, aging in place, and product installs).
Growing segment with reliable revenue opportunity
The Ace Hardware support makes this the right time to join in on the journey. Make no mistake, this is your business. We're confident that having independent control of your daily business operations and future potential of your market will inspire you. After two decades of operations, we have weathered storms and demonstrated that our business model is viable across changing economies – time tested and resilient. With the "Do It For Me" (DIFM) economy upon us, we are looking forward to even more consistent, widespread demand for maintenance and home improvement services.
Values driven organization
It didn't take long in 1998 to see that the home improvement industry desperately needed a values- driven mission to improve how both handyman services and consumers dealt with each other. This is a business that provides value, serves people, and solves problems. But it had to be grounded in integrity to be the answer. This is a trust-driven business, and it is our job to communicate and promote fair dealings in all that we do.
Marketing and Advertising
Many of our owners have marketing and advertising backgrounds; most however don't. This is not an uncommon hole in many people's core experiences; however, we have a method!
Starting with one month before you open, all the way through your first year, we have a customizable marketing plan and budget to match your goals. We help with the strategy, messaging, and the tactics so you can deliver your offering to your local community. We offer both online and offline tactics to deliver your message.
We have a tested startup kit to get you off and running. It includes a grand opening plan, designed and tested ads for all mediums, automated email campaigns to ignite a second visit, monthly consumer newsletters, and on-demand marketing collateral that is just a click away. You can get what you need when you need it. And if you can't find what you need, our marketing department will create it for you.
Additionally, Ace Hardware is working on being an important part of the marketing plan. We are currently in process and working on the following opportunities with Ace Hardware:
In-store signage and customer referrals from the associates working on the hardware floor
Ace Reward Member Mailings & Emails
In-home services listed on www.AceHardware.com
Direct appointment bookings from AceHardware.com
And so much more…
We are all in on growing your business with you!
Recruitment
It doesn't matter what business or industry you are considering; : hiring good, reliable, and professional employees is challenging. We have third-party software that creates automated systems for you to gather large numbers of qualified applicants. We see the changing forces in the industry of handymen moving toward what we've always believed: we want to create professional careers for the talented craftspeople who work for us. The discipline of recruitment can't be taken lightly.
With our always-on third party recruitment system plugged into all the major job boards, such as Indeed, Glass Door, and CareerBuilder as well as literally hundreds of other job boards, successful owners can reach a wide potential audience that is intrigued to work for an organization that respects what they do and rewards them for their loyalty.
Our most successful owners are challenged and excited to lead their teams. They clearly define values, roles, and responsibilities, and they understand customer service and its relationship to employee performance.
Training
With over two decades of experience behind us and an actual operating unit in the same training building, we have optimized the way we teach and train new owners to start their businesses quickly and correctly.
The training takes place in Denver, Colorado the third full week of every month, after a pre-training program that prepares you to take advantage of everything you will learn.
In addition to training you, we provide training for your TEAM Coordinator on the software, phone scripts, and scheduling. We invest in you AND your employees to ensure you are well prepared to start and run your business.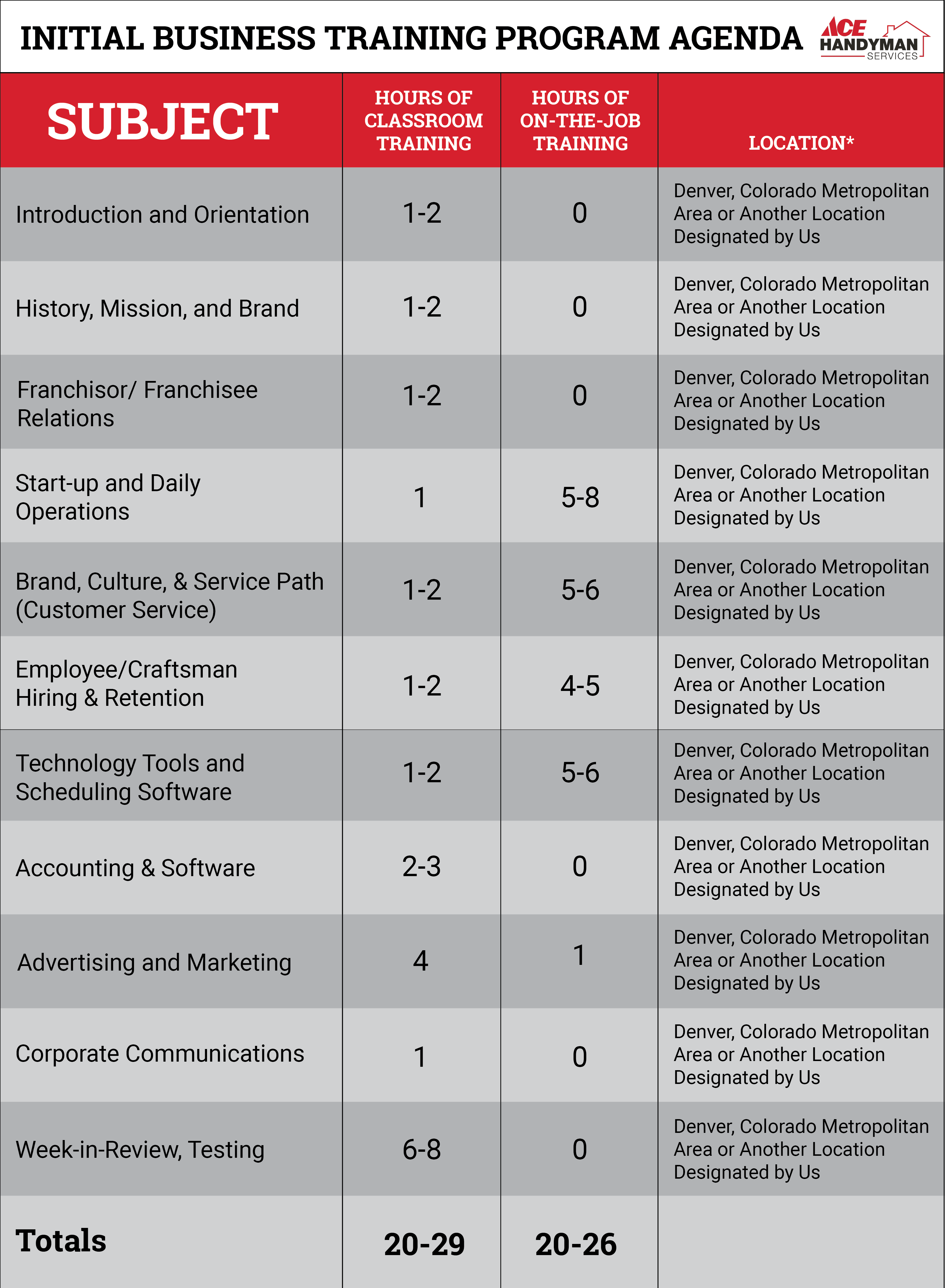 Customer Profile
Whether you live in a busy urban market, a quiet suburb, or even a rural town, there are a growing number of people who need work done in their home or business. What sets us apart, according to our own customers and third-party research, is the professional, reliable, trustworthy, timesaving way we operate, every single time they use us.
And use us. And use us. Customers who have experienced our extraordinary customer service use us repeatedly. With over 1,162 different simple tasks, we not only provide half-day and full-day options, but have the ability to tackle multiple-day jobs as well.
Our customers tend to be time-starved, busy, and span all levels of economic status. We've been in the senior industry for many years. Today, baby boomers are "aging out" of their ability to work on their own homes, so we see this segment growing even more.
Our commercial clients include national management companies that are already set up for you and cover hundreds of brands such as Best Buy, Taco Bell, Abercrombie & Fitch, Victoria's Secret and many more. Additionally, the opportunity for creating relationships with local commercial clients is almost endless – from restaurant owners, to dentists, doctor offices, real estate agents, apartment complex owners, rental property owners, and the list goes on.
Grand Opening
Upon returning home from Denver, you will be equipped to finish any last-minute tasks and prepare for your first week of live business. We will provide on-site support at your office that focuses not only on you and your role, but also provides live support for your TEAM Coordinator as the phone begins ringing and Craftsmen head out to your new customer's homes.